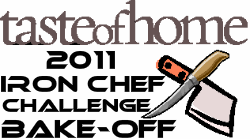 I'm excited to be competing in A Latte With Ott, A's Iron Chef Challenge Bake-Off sponsored by Taste of Home. I'm competing against the other winners of previous Iron Chef Challenge's over on her blog.
We were asked to create something new using Taste of Home's Cinnamon Raisin Bread recipe

.
Since I won a challenge making something for my dad, I decided to go with the same theme in this challenge. My dad loves bread pudding and my grandma would make it for him a couple times a year. So, I pulled out my folder with grandma's favorite recipes and used one of the loaves of Cinnamon Raisin Bread (we ate the other one straight out of the oven) to make bread pudding.
Here's the final product. Yummy!
First I took a loaf of the Cinnamon Raisin Bread that I had baked earlier in the week.
And cut it up into bite-sized pieces.
Then I put it into the oven at 200 degrees for about 20 minutes to dry it out.
Then I added the chunks of bread to a mixture of 1/2 cup sugar, 1 teaspoon vanilla, 1 teaspoon cinnamon and - per my grandma's recipe - "enough milk to soak up bread"(I used about 2 cups) and stirred it together.
I put the mixture into a large glass baking dish. Put it into a 375 degree oven. Grandma's recipe says to bake until brown and thick. I left mine in for about 45 minutes.
I served it warm with some French vanilla Cool Whip.
My dad enjoyed it, as did the rest of the family. Thanks to Taste of Home for sponsoring this challenge and Amy over at A Latte with Ott, A for hosting another great competition. Head over to her page to see what my competitors created. p.S. Amy will be posting all of our links tomorrow morning but I have to be at work super early and don't trust my scheduler to post this on time tomorrow...so mine is up a bit early.