This weekend a couple of my college gal pals and their daughters came over for a fun girls weekend.
We did some scrapbooking, took in a movie (Tangled in 3D, it was a great show), laughed until we hurt, and, of course, had a little something to eat and drink.
I took this opportunity to prepare my entry into Ott, A's Iron Chef Challenge: Canned Tomatoes.
Jane, from
Going Jane
, just happened to have some cookbooks in her car - doesn't everyone travel with cookbooks - and had flagged a recipe for Pizza Dip. We decided it would be the perfect dish to snack during an afternoon of scrapbooking.
Here's the final product...
I started out with my ingredients, including a couple of small cans of Red Gold tomato sauce. I didn't have all the "toppings" so I improvised and left a few out. This dip is like pizza - your choice of toppings.
The recipe called for pizza sauce but I used the tomato sauce and Italian Seasoning and made my own.
Then I cut up some pepperoni.
Then spread the cream cheese into the bottom of my Pampered Chef round baking dish. The recipe said to use a 9-inch pie plate but I use mine in the microwave (a story for another day).
Then I poured the tomato sauce on top of the cream cheese and added the pepperoni. I decided to up the tomato factor by adding some Red Gold Diced Tomatoes with Basil, Garlic and Oregano.
I only added the tomatoes to one half of the dish because some people don't like chunky tomatoes and some people do.
Then I covered it in cheese - a mix of mozzarella and parmesan - and put it into the oven.
While it was baking, I cut up part of a loaf of French bread and spread them on my Pampered Chef pizza stone. Do you see a pattern of Pampered Chef use this weekend? I went to a Pampered Chef party on Friday night and got inspired.
I wanted to jazz up the bread a bit so I brushed on some EVOO (olive oil) and sprinkled some Italian Seasoning on top. Then I cranked up the broiler and put them in the oven with the pizza dip.
It was a hit judging by the three batches of bread I had to fix!
If you feel up to joining Ott, A's Iron Chef Challenge, go here: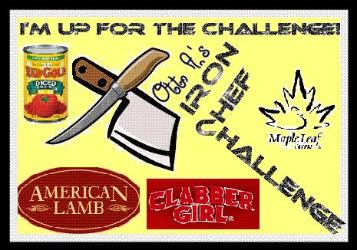 Pizza Dip
1 (8-oz) package of cream cheese, softened
1 (14-oz) jar pizza sauce OR tomato sauce with your choice of seasoning
1/2 cup green bell pepper
1 (14.5 oz) can diced tomatoes, drained
1/2 cup pepperoni
1 (2 1/4-oz) can sliced ripe olives
1 (8-oz) package shredded mozzarella cheese (or Italian mix or some Parmesan)
2 green onions, chopped
Spread cream cheese in bottom of a 9-inch pieplate; spread pizza sauce over cream cheese. Sprinkle bell pepper, pepperoni, and olives (or diced tomatoes or mushrooms or well, you get the idea) over sauce. Top with mozzarella cheese (or Parmesan or Italian mix).
Bake at 350 degrees for 10 or 12 minutes or until cheese melts. (I cranked up the broiler for the last couple of minutes.) Serve warm with corn chips or French bread or whatever you want!