It was very easy and quite yummy. Actually, I think it got better when I re-heated it for supper the next day!
I'm going to let you in on a couple of tricks I did to make the prep even easier.
First, I used a tip from Leah over at
Beyer Beware
and browned my ground beef in the microwave using my Pampered Chef micro-cooker. This has forever changed the way I cook up my ground beef! However, I need to invest in the large PC micro-cooker...the small one worked fine but I NEED the bigger one.
Second, it was 90-plus degrees out the day I decided to make the baked ziti and I did NOT want to put a pot of water to boil on the stovetop to cook the pasta. So, I threw uncooked pasta into the dish and added an extra can of tomato sauce.
Third, my sister called and wanted to go to the pool AFTER I popped the ziti in the oven. So, I turned the oven down to 200 degrees and let it cook as we sat by the pool and watched my nephew practice for his Boy Scout Camp swim test. It turned out just fine!
Here's the actual recipe. I think it would be a great dish for family night. Add a salad and some bread and you have a meal.
Baked Ziti Supreme
1 lb. ground beef
28-oz. jar spaghetti sauce
8-oz. pkg. shredded mozzarella cheese, divided
8-oz. pkg. ziti pasta, cooked
1/4 c. grated Parmesan cheese
Optional: add ripe olives or mushrooms
Brown ground in a large saucepan over medium-high heat; drain. Stir in sauce, one cup mozzarella cheese and cooked pasta. Spoon into a lightly greased shallow 3-quart casserole dish; sprinkle with remaining mozzarella and Parmesan cheese. Bake, covered, at 350 degrees for 30 minutes, until hot and bubble. Serves 6.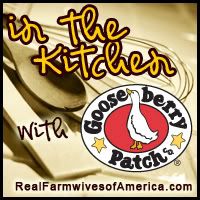 Special thanks to
Gooseberry Patch
for providing me with this great cookbook to try and share with you. If you would like to purchase this or other cookbooks, please visit their
store
. If you would like to see other great recipes, check out
www.realfarmwivesofamerica.com
.
Linking up to: