I made these bad boys to go with my leftover
Baked Ziti Supreme
that I heated up for dinner over the weekend. They reminded me of the yummy biscuits they serve at Red Lobster.
These Cheesy Garlic Biscuits are the fifth recipe I'm featuring from
Gooseberry Patch's Christmas Kitchens cookbook
. Unlike the first four recipes, these biscuits feature SIX ingredients instead of five...there goes my plan of only fixing five-ingredient recipes from the book. Oh well, they were worth it!
These biscuits were light and fluffy and very tasty. The recipe says to drop tablespoonfuls of the batter onto the cookie sheet to make a dozen biscuits. I made my biscuits about twice that size and came out with seven biscuits.
If you need an easy and quick option to go with your next dinner, these are a great option.
Cheesy Garlic Biscuits
1-1/4 c. biscuit baking mix
1/2 c. shredded Cheddar cheese
1/2 c. water
1/4 c. butter, melted
1/4 t. garlic powder
1/4 t. dried parsley
Combine baking mix and cheese in a small bowl. Add water and stir until combined and slightly moistened. Drop dough by tablespoonfuls onto baking sheets that have been lightly sprayed with non-stick vegetable spray. Bake at 400 degrees for about 10 minutes, or until firm and beginning to turn golden.
Combine remaining ingredients in a small bowl and mix well. As soon as biscuits come out of the oven, brush them with the butter mixture using a pastry brush. Serve warm. Makes about one dozen.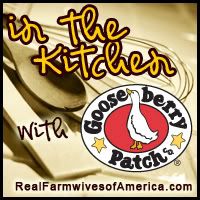 I can't believe I'm halfway through this project. Stay tuned for the remaining 5 recipes and eventually a giveaway featuring the GP cookbook I'm cooking from!
Special thanks to
Gooseberry Patch
for providing me with this great cookbook to try and share with you. If you would like to purchase this or other cookbooks, please visit their
store
. If you would like to see other great recipes, check out
www.realfarmwivesofamerica.com
.
Linking up to 2 Maids a Baking.