It's that time again...Iron Chef Challenge over at
A Latte' with Ott, A
and this month the secret ingredient is...
Red Star Yeast
. I've really enjoyed participating in these challenges over the last several months and I even took home first place for my
Dirt Pudding
effort for my dad on Father's Day!
For this challenge, I made these...
These are my Grandma's Butterscotch Rolls. (I realized when making these that I made
Grandma's Butterscotch Brownies
for an earlier challenge...I must like butterscotch AND my grandma!)
I have NEVER attempted to make these on my own even though I enjoy them every Holy Saturday with my family. I don't know why my dad's mom made these for us on the evening before Easter but I do remember that they were ALWAYS delicious.
When my grandma could no longer bake, my mom took up the tradition and began making them.
I decided that Ott, A's Iron Chef Challenge was the perfect excuse opportunity to tackle these even if Easter was months ago!
So, I gathered my ingredients and my mom's copy of the original recipe in my grandma's handwriting.
Note the King Arthur Flour left over from the
Pizza Batter Bread
I made for yet another challenge.
I didn't take many photos of the process because I have to admit that working with yeast intimidates me and I need all my concentration not to mess it up!
I did take a couple photos of steps that I thought were important.
First, I pulled out the candy thermometer to test the water in which a dissolved my yeast. I really appreciate the fact that Red Star has the water temperatures for use of yeast when dissolving directly into water (around 115 degrees F) OR mixed with dry ingredients and THEN mixed with liquids. The last time I worked with yeast, I went through two recipes and three packages of yeast before I got it right!
I also used the thermometer to test the temperature of my scalded milk BUT I still didn't let it cool enough and cooked my eggs just a bit...thank goodness for a strainer!
My grandma's rolls always had pecan halves on top. I like pecans but the pecans were a bit overpowering so I decided to give mine a spin in my mini food processor.
I LOVE this little machine. Just throw the pecans in, push the button and you have chopped pecans.
Here's a shot of the rolls freshly out of the oven in the pan and out of it. Don't let them sit too long in the pan after they are out of the oven or the topping will stick to the pan.
As you will see, these do NOT have pecans on them. Some of my family does not enjoy pecans so I made four pans sans pecans and one large pans with pecans.
See that ooey-gooey goodness? That's what makes these rolls so good. I didn't add enough topping to the first couple of pans so they were lacking ooey-gooey goodness but they were still yummy.
Here's the pecan-topped rolls...
That's what I'm talking about! Ooey-Gooey Pecan-Topped Goodness!
Here's the recipe! I will warn you that I had to interpret some of the steps because as with many recipes handed down in families, this one is a bit ambiguous.
Butterscotch Rolls
3 c. whole milk
1/3 c. butter
3 well-beaten eggs
1 1/2 t. salt
2/3 c. sugar
2 packages yeast
Flour
Topping
1/2 c. hot water
1/2. c butter
1 c. brown sugar
Scald 3 cups milk and then add 1/3 cups butter. Cool the mixture to lukewarm. Meanwhile soak the 2 packages of yeast in 2/3 cups of lukewarm water. When milk is lukewarm, add the yeast and the remaining ingredients to the milk and butter.
Then add enough flour to make a soft dough. (For me, this was about 6 1/2 cups of flour. I think my dough was still a bit sticky so I might have been able to add another cup or so.) Knead dough for 10 minutes. Let rise until double in bulk. Punch down and let rise until double again.
Roll dough out. (I rolled the dough out into one huge piece...afterwards my mom said that she divides the dough into fourths and then rolls it out...her way would have been MUCH more manageable.)
Spread with softened butter and sprinkle with brown sugar and cinnamon (again Grandma did say how much so use your best judgement). Roll up the dough and cut into 1/2-inch slices.
Grease pans, mix the topping ingredients together (it will be VERY thin) and pour in the bottom of the pans. Add pecans.
Put rolls into pans cut side down. I covered the pans with a towel and let the rolls rise for about 15 minutes before baking them at 350 degrees F for 20-25 minutes.
Remove the pans from oven, let them cool slightly and then flip them out onto a plate.
Serve them warm...I promise you'll thank me!
I'm linking up to the Iron Chef Challenge,
Two Maids a Baking
and
Made from Scratch Tuesday
.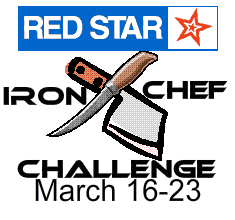 Disclaimer: The recipe is from my grandma, the yeast was provided by Red Star Yeast, the opinions are all my own.