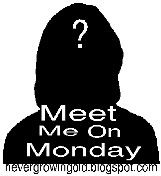 This is my first time participating in Meet Me Monday. Big D over at
Who's the Grown Up?
usually plays and I always enjoy her answers, so I decided to join in this week. Here we go:
Questions:
1.
What is the best dish you can make?
The best dish I CAN make is probably different than the best dish I DO make, which is a Club Cracker Chicken which is always moist and flavorful.
2.
How often do you change your sheets?
I try to do it every week, but realistically it's every 2 weeks (3 if I've been traveling a lot).
3.
What is the longest car trip you have ever taken?
I'm sure some of our summer vacations were longer in total miles, but the two off of the top of my head are 1) non-stop from Indiana to Cape Cod (Massachusetts) for a total of 17 hours and 2) non-stop from Indiana to Disney World for a total of 16 hours. Of course we stopped for gas, bathrooms and food, but we drove all night/day!
4.
What is your favorite fruit?
I'm not a huge fruit fan (just ask my family), but I love watermelon and grapes.
5.
Would you rather have breakfast for dinner or dinner for breakfast?
Breakfast for dinner.
That was fun. Thanks for stopping by!