I'm participating in
Ott,A's Iron Chef Challenge
again this month (BTW...I won her milk challenge!) and the sponsor is
King Arthur Flour
.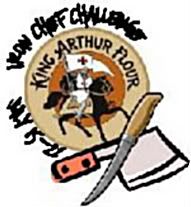 I chose King Arthur's
Unbleached Bread Flour
so I could test my bread-making skills! It's been years since I've done any serious yeast baking. When doing a bit of research on what King Arthur flour I wanted to use, I found out that the higher the protein level in the flour, the stronger the rise...King Arthur bread flour has a higher protein level than most brands. Check out more nutritional information about the flour
here
.

I was tempted to mix up the Cheddar-Stuffed Crusty Loaves from the recipe on the back of the package...yummy.
But, I decided to mix up a loaf of Pizza Batter Bread from the local extension homemaker cookbook. This cookbook features recipes from local women and 4-H members and I have had great luck with the ones I've made before. This one was no exception, two thumbs up from the family.
Here are the ingredients...
I didn't snap many photos of the dough in process...but I did get this one of the dry ingredients...flour, spices and yeast!
Here's the "soft dough" before I set it in a warm place to rise.
Once it doubled in size, I stirred it and placed it in a bread pan to double in size again before baking.
It turned out great! I took it to a pitch-in at my mom's on Sunday night and it was well-received!
Here's the recipe:
Pizza Batter Bread
3 c. flour (I used unbleached bread flour from King Arthur.)
1 pkg. yeast
1/2 t. dried oregano (I used Italian seasoning.)
1/4 t. garlic powder
1 1/4 c. water
2 T. butter
1 T. sugar
1 t. salt
1/4 c. finely chopped pepperoni
In mixing bowl, combine 1 1/2 cups of flour, yeast, oregano and garlic powder.
In saucepan, heat water, butter, sugar and salt just until water is warm, stirring to melt butter. Add to dry mixture in mixing bowl. Beat at low speed for 1/2 minute, scraping sides of bowl constantly. Beat at high speed for 3 minutes.
By hand, stir in pepperoni and enough remaining flour to make a moderately soft dough. Cover, let rise in warm place until double, 45 to 60 minutes. Stir dough down. Spread evenly in greased 9 x 5 x 3-inch pan. Let rise until double, about 30 minutes.
Bake in 375 degree oven for 35 to 40 minutes. Remove from pan: cool on rack. Makes 1 loaf.
Check out the other Iron Chef Challenge entries
here
.
King Arthur provided me with a coupon for a free sack of flour. But the opinions and thoughts expressed in this post are all mine, of course!