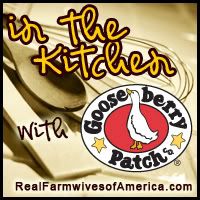 I decided to tackle a main dish for my 10th and final recipe out of Gooseberry Patch's Christmas Kitchen cookbook as part of my Real Farmwives and Friends of America In the Kitchen experience!
I went for the Chicken, Spinach and Bows Casserole courtesy of Karen Fulton of Huntington, Ind. I thought it was appropriate to fix a Hoosier contribution!
It was very easy to make and yummy to eat. I halved the recipe because I didn't need to serve 10-15 people! I also used frozen, pre-cooked diced chicken instead of fresh.
Here's the recipe:
Chicken, Spinach and Bows Casserole
16-oz. pkg. bowtie pasta, cooked (I used 8 oz. of what I had on hand.)
26-oz. can cream of chicken soup (I used a regular sized can - 10 oz or so.)
16-oz. pkg. frozen chopped spinach, thawed (I used a 10 oz. box.)
4 to 5 boneless, skinless chicken breasts, cooked and diced (I used about 2 cups frozen, pre-cooked diced chicken.)
8-oz. pkg shredded Colby-Jack cheese
1 T. butter, sliced
salt and pepper to taste
Combine cooked pasta and soup, stir until coated. Add spinach and set aside. In a lightly greased 3-quart glass casserole dish, layer half each of chicken, pasta mixture and cheese. Layer with remaining chicken and pasta mixture; dot with butter and sprinkle with remaining cheese. Bake, covered, at 350 degrees for 30 to 45 minutes, until heated through and cheese is melted. Serves 10 to 15.
Stay tuned for a chance to win this great cookbook!
Hooking up to:
Special thanks to
Gooseberry Patch
for providing me with this great cookbook to try and share with you. If you would like to purchase this or other cookbooks, please visit their
store
. If you would like to see other great recipes, check out
www.realfarmwivesofamerica.com.