Since I've been stuck in the house for the last two days because of the Great Ice Storm of 2011, I started checking out some new blogs. There are SO MANY out there that I just can't get to all of them on a regular basis.
I was over at
Beth's Blog...musings of my everyday life
and her posts about getting organized intrigued me.
It's not a secret to my family and friends that I am not a very organized person and not the best housekeeper! It's not that I enjoy living in a mess...I'm just used to it.
So I am going to try and do the 21 Day Organizing Challenge over at
A bowl full of lemons
.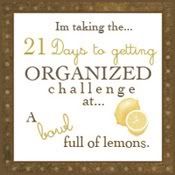 Here's a run down of the daily tasks...
Join the Challenge (at any time)
Day 1 - Junk Drawer
Day 2 - Computer Desk
Day 3 - Tupperware Cabinet
Day 4 - Linen Closet
Day 5 - Under kitchen sink
Day 6 - Dresser Drawers
Day 7 - The Pantry
Day 8 - Coat Closet
Day 9 - Toy organization
Day 10 - Laundry Room
Day 11 - The Freezer
Day 12 - Spice Cabinet
Day 13 - Medicine Cabinet
Day 14 - Under bathroom sink
Day 15 - Medicine/Vitamin Storage
Day 16 - The Fridge
Day 17 - The Mail
Day 18 - Keepsakes
Day 19 - Master Closet
Day 20 - Photos
Day 21 - You pick!
I'm off to tackle the Junk Drawer...probably should include the "Junk Counter" too!
Stay tuned...