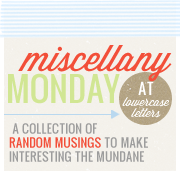 ONE
Remember my
sandals post
last week? I went Kohl's early Saturday morning and did a bad, bad thing...
I bought three of the sandals that I drooled over online, plus another pair that were just $13.99 (20% off).
I might have even bought the same style in two different colors...
TWO
I had a few comments on my
poppies post
last week asking how my mom started her poppies.
Here's what she said, "Donna down the road gave me a start and I planted them. See how much they spread?" Hope that helps!
THREE
Guess what came in the mail on Saturday?
Over the next 3 months, I'll be fixin' at least 10 of the yummy recipes out of this great cookbook as part of the
Real Farmwives of America
in the Kitchen project with
Gooseberry Patch
. Stay tuned for the first recipe soon and a giveaway at the end of my cooking expedition.
Disclaimer: Gooseberry Patch gave me two Christmas Kitchen cookbooks, one for me to use and one for me to give away on here!